Crafting a compelling and well-structured blog post can be manageable. With the right blueprint, you can turn your ideas into informative content that keeps your readers hooked effortlessly. That's where a blog outline template comes in. This essential tool for bloggers allows you to build your posts quickly and efficiently while ensuring all key points are covered effectively. In this article, we'll explore how to create a blog post outline template in minutes, dive into different formats of blog posts, examine helpful tools for building outlines, and share tips for writing a compelling blog post outline.
What is Blog Outline Template?
A blog outline template is the backbone or roadmap of your entire blog post before the actual writing process begins. It creates a structure for logically organizing keywords, headers, major themes, and sections.
The main goal of using an outline template is to help plan each component of the content so that it feels coherent and flows smoothly from start to finish. Doing so minimizes the risk of getting lost or overwhelmed during the writing phase.
In other words, think of it as scaffolding: putting together a framework consisting of these key elements first saves time and energy when constructing your final piece that engages your audience with substance and style.
So let's delve deeper into the world of a blog post outlining and learn how to create our very own effective templates!
Benefits of Creating a Blog Post Outline Template
Creating a blog post outline template offers numerous advantages, helping you navigate the content creation process more easily and efficiently. This section will discuss several vital benefits writers can enjoy by incorporating an outline template into their blogging endeavors.
Enhance Organization and Structure
A well-designed blog outline template does wonders for organizing your thoughts, ideas, and information. You structure your article effectively by breaking the content into clear headings and subheadings. This lets readers easily follow your points and digest complex material without feeling overwhelmed.
Streamline Your Writing Process
Consistently using a blog post outline template allows you to establish good writing habits that generate faster content. Executing outlines becomes more natural with practice as templates expedite the writing process and simplify your workflow. Consequently, you can produce more high-quality articles in less time.
Improve Readability
A functional blog outline template enhances overall readability by guiding your thought process while drafting the content. Using headings and bullet points encourages you to write concise sentences that don't overburden readers with excessive jargon or needless complexity—a boon for user engagement.
Strengthen SEO Efforts
The blog post outlines streamlining the writing experience and empowering optimization for search engines. Keywords selected during research can seamlessly integrate within headings, boosting relevance throughout your article—ultimately leading to improved organic traffic rankings.
Establish Consistency Across Your Content
An efficient blog outline template fosters consistency across all published works on a website or platform. Character builds brand recognition and reinforces trust among your audience. They begin anticipating similar quality structures within future blog posts.
Creating a comprehensive blog post outline template is indispensable for any serious blogger looking to publish captivating content quickly while optimizing SEO efforts and maintaining consistent design principles. Embrace these potential benefits by honing your outlining skills and reaping the rewards of a well-structured and engaging blog presence.
Step-by-Step Process for Creating a Blog Post Outline Template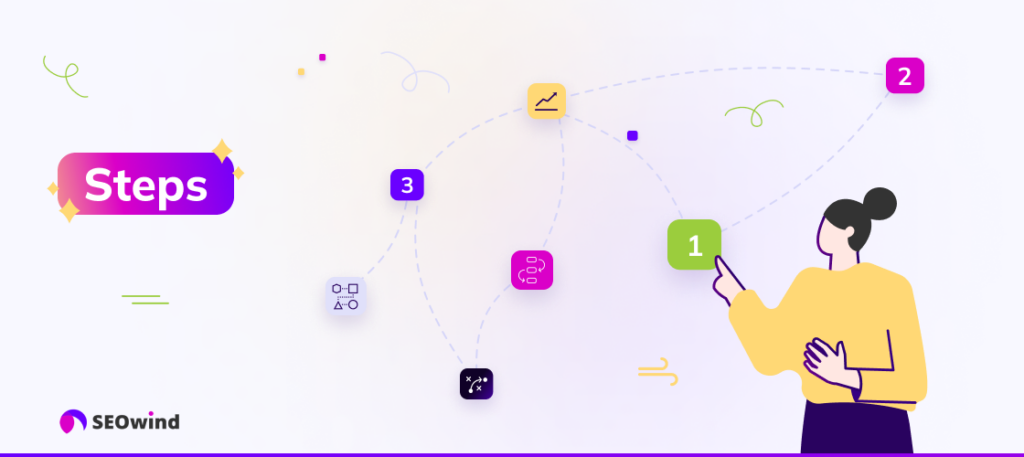 To create an effective blog outline template, follow these steps. Implementing this process will help streamline your content creation and improve the overall quality of your blog posts.
Step 1 – Keyword Research
Start with thorough keyword research to identify topics relevant to your target audience. Use tools like Google Keyword Planner or Ubersuggest to find high-traffic, low-competition keywords related to your niche. This step is crucial as it helps you optimize your content for search engines and drives organic traffic to your site.
Step 2 – Write a List of Keywords to Target
After conducting keyword research, create a list of target keywords you intend to include in your blog outline template. These keywords should be closely related to the primary keyword and provide additional context or variations for search engine optimization.
Step 3 – Take a Look at the Current Results
Before creating your outline, analyze search results by searching for existing articles covering your topic. Note how they've structured their content, the subtopics they've covered, and any missing information you can address in your post.
Step 4 – Determine the Key Takeaway for Your Readers
Define what you want your readers to learn from reading your blog post. Establish a clear purpose for the article so readers understand its value. Tailor each section of your outline toward achieving this goal.
Step 5 – Make a List of Headings
List potential headings based on what you've observed from competitor articles and brainstorm new ideas relating to the key takeaway for readers. Use catchy headlines that pique readers' interest while accurately describing the sections' content.
Step 6 – Arrange Major Themes and Sections of Your Blog Post Outline
Organize headings logically so that each section flows seamlessly into the next one while maintaining coherence throughout the entire post— make sure everything relates to the central key takeaway previously defined.
Step 7 – Brain Dump: Write Down Every Question You Need to Answer
Generate questions your targeted audience may have to ensure comprehensive coverage of each subtopic. Consider exploring these questions further in their respective sections.
Step 8 – Ask More Questions (Research, Research, Research)
Deepen your understanding by going beyond basic ideas and delving into additional sources like forums, Q&As, and industry publications. Searches on platforms like People Also Ask, Quora, or Reddit can provide valuable insights into what real users are discussing and seeking solutions for—the answers you gain will help you create a more informed blog outline template.
Step 9 – Insert Relevant Studies, Data, and Additional Sources
Support your content with credible research and statistics from reputable sources; this adds credibility to your blog post and highlights the accuracy of your arguments. Take note of these sources so it's easy to cite them within the article.
Step 10 – Revise, Trim, and Clean Up Your Blog Post Outline
Review your completed blog outline template rigorously, edit for clarity, and eliminate redundancies or irrelevant information. Ensure that each section connects seamlessly while always focusing on delivering valuable content that educates readers about the chosen topic.
By following these ten steps diligently, you'll be well-prepared to craft engaging articles based on an organized structure using a comprehensive blog outline template. This process will streamline your content creation and elevate the quality of information delivered to readers—a win-win situation!
Let's go through each step in detail.
Step 1 – Keyword Research
To begin creating a blog outline template, your first step is to conduct thorough keyword research. This crucial step in content creation will help you identify and target specific keywords relevant to your niche or industry.
Why Conduct Keyword Research?
Keyword research plays a pivotal role in any content marketing strategy. By understanding which terms or phrases are commonly searched for by your target audience, you can create content that specifically caters to their needs and addresses their queries. Consequently, optimizing your blog posts using these keywords will improve search engine rankings, increase organic traffic and enhance overall visibility online.
Utilize Effective Keyword Research Tools
There are various tools available on the web that assist in conducting keyword research effectively. Some popular options include:
Google Keyword Planner
SEMRush
Ahrefs Keywords Explorer
Moz Keyword Explorer
Ubersuggest
Use these tools to find popular search terms related to your subject matter and semantic keywords or long-tail phrases that can complement the main focus of your article.
Do Competitive Research & Analyze Competitor Keywords
In addition to utilizing keyword research tools, examining what keywords bear fruit for competitors within your market space is essential. By doing so, you can understand which topics they're faring well with and potentially incorporate similar elements into your content strategy—adjusting them accordingly to provide unique value for readers.
Remember, writing quality content isn't solely about using the appropriate keywords. Instead, it involves crafting an article with originality based on comprehensive data analysis while also keeping targeted search terms intact.
Upon completing this initial step of keyword research, proceed to compile a list of comprehensive words and phrases aligned with the primary objectives of your article. Hence, you have them at hand when structuring the blog post outline template later on in steps two through ten.
Step 2 – Write a List of Keywords to Target
Once you've completed your initial keyword research, it's time to compile a list of target keywords for your blog post outline. These keywords are essential for optimizing your content, ensuring search engines can easily index your article, and improving the chances of ranking higher on search engine results pages.
When creating this list:
Focus on relevance: Choose keywords that genuinely relate to the overall theme of your blog post and represent concepts that readers will likely search for when trying to find information related to the topic.
Consider searcher intent: Analyze each keyword's purpose, considering why users might utilize these terms when locating specific information or answers about your subject matter.
Balance competition and search volume: Opt for phrases with a reasonable search volume while minimizing direct competition; doing so enables your content to reach a larger audience without excessive rivalry from other creators.
Here are some methods for finding suitable keywords:
Use keyword research tools: Platforms like Google Keyword Planner and Moz Keyword Explorer can offer valuable insights into which phrases hold potential by providing data on search volumes, competition levels, and more.
Analyze similar content: Take note of standard terms used throughout popular articles related to your topic, identifying any recurring themes or vocabulary worthy of incorporating into your blog post outline template.
Consult Google autosuggest: As you type key phrases related to your topic into the Google search box, observe its autocomplete suggestions to identify relevant long-tail keywords yet to be discovered during prior research steps.
Including 3-5 strategic target keywords per section within your blog outline templates ensures smooth integration into the final text without forcing unnatural language alterations. Following a carefully crafted plan paves the way toward crafting an informative and well-designed article both readers and search engines alike appreciate.
Step 3 – Take a Look at the Current Results
After conducting your keyword research and listing your target keywords, it's crucial to analyze the current search results for those terms. Understanding what kind of content is already available will help you create a more competitive blog post outline template and ensure you're adding original value to the conversation.
Evaluate Top-ranking Content
First and foremost, take note of the top-ranking articles for each keyword. These articles can offer excellent insights into the following:
The type of information users are interested in.
The structure and format that works for your targeted audience.
Potential gaps or opportunities where your blog post could provide additional value.
Identify Gaps in Existing Information
Look for any potential gaps or areas where existing content needs to be improved. For instance, if the top search results only skim the surface on a specific topic, this could leave an opening for you to dive deeper into your content by providing a more comprehensive guide.
Analyze Rankings Factors
While examining top-ranking content, consider factors such as word count, readability score, visual elements like images or videos, and their overall user experience on mobile devices. This will give you clear idea about what Google sees as valuable content about these particular queries – ultimately guiding how you should construct your blog outline template.
Study Competitor Strategies
Lastly, observe how other articles and blogs within your niche present similar information by comparing successful pieces against lower-ranking ones. Just be sure not to point out competitors' faults but use this analysis as an opportunity to understand what works best when creating content explicitly related to these terms. By identifying patterns among winning articles while making notes on unsuccessful ones, you'll be better positioned when designing your engaging blog post outline template.
Thoroughly examining the current search results while keeping track of trends and opportunities within them presents a starting point from which you can design an optimized blog post outline fully equipped for success.
Step 4 – Determine the Key Takeaway for Your Readers
Defining the key takeaway for your readers is a crucial aspect of creating an effective blog outline template. This pivotal step ensures you deliver valuable information to your audience while maintaining focus throughout the entire article. The following points will help guide you in determining the key takeaway for your readers:
Identify your target audience: Understand who you write for and what content appeals to this demographic. Knowing their interests, pain points, and preferences, you can tailor your message to resonate with this group.
Narrow down your topic: To determine your blog post's core message or main benefit, it's essential to narrow its scope. This will help you maintain focus and avoid diluting the main point with tangential details.
Clarify your goals: What do you hope to achieve with this content? Are you looking to educate, entertain, or persuade? Define clear objectives so that each section ties into attaining these aims.
Analyze competitor articles: Evaluate existing blog posts addressing similar topics within your niche. Assess their strengths and weaknesses and identify areas where you can offer better value or a unique point of view.
Distill the key takeaway in a single sentence: Summarize your article's primary purpose or outcome in one concise statement to ensure clarity and consistency across every subsection.
Considering these factors during the creation process, you'll be well-positioned to deliver insightful content that leaves a lasting impression on readers. Integrating applicable keywords such as 'blog post outline template,' 'blog outline examples,' and 'content outline example' will also aid in boosting SEO performance and attracting more organic traffic to your website.
Understanding what capacity lies at the heart of any successful blogging endeavor is vital when designing an efficient blog outline template that consistently drives results. Utilize these recommendations to enhance your content creation process and transform abstract concepts into polished, actionable blog posts that captivate readers while delivering the essential takeaways they seek.
Step 5 – Make a List of Headings
Once you've determined the key takeaways and target keywords for your blog post, it's time to create a list of headings to guide your content creation process. Headings are crucial for organizing the structure of your blog outline template and ensuring a coherent flow throughout your article.
The Importance of Headings
Headings help improve readability by breaking up long chunks of text and serve as signposts for readers who may be skimming the content. Additionally, incorporating relevant keywords within headings can positively impact SEO when executed correctly.
When planning your headings, follow these guidelines:
Keep them concise: Aim for brevity while avoiding ambiguity to communicate the main idea effectively.
Ensure consistency: Adopt a consistent format across all headings – whether using title case, sentence case, or numbering systems.
Include sub-headings: Consider utilizing subheadings to refine major themes and sections within your blog post outline template, providing valuable context and organization.
Strategies for Crafting Effective Headings
Follow these strategies to develop clear and engaging headlines:
Brainstorm: Write down every possible heading related to your subject matter without filtering or censoring any ideas.
Group similar topics together: Identify common threads among generated headlines and arrange them in cohesive groups for a more accessible organization later.
Prioritize: Determine which headings best align with your key takeaway(s) and selected target keywords.
After compiling an extensive list of potential headings, you should have a solid foundation to build your blog outline templates further. Remember that some topics might become new sections or separate articles based on length or complexity.
Experiment with integrating 3-5 relevant keywords into each heading naturally where appropriate.
By applying these steps, you'll be well on your way to creating an effective and structured blog post outline that boosts readability and SEO performance. It's time to arrange your outline's significant themes and sections in the next step.
Step 6- Arrange the Major Themes and Sections of Your Blog Post Outline
By this stage, you should better understand your target keywords, key takeaways for your readers, and a list of headings. The next step in creating an efficient blog outline template is to structure the significant themes and sections logically and coherently.
Create a Hierarchy
Start by setting up a hierarchy in your blog post outline. The primary thematic points are the main headings or "H-level one." These are essential elements that will provide solidity to your article. Underneath these primary headings, supplement them with relevant subheadings ("H-level two") that expand on each topic further.
When dealing with complex concepts, incorporate tertiary headings ("H-level three") to offer additional clarity where required. Structuring your content at multiple levels ensures coherence throughout while keeping every section straightforward for readers.
Remember to use 3-5 keywords in each section, including terms like 'content outline examples,' 'basic outline template,' 'how to write a blog template,' and 'blog outline examples.
Logical Sequence
Once you establish your hierarchical structure, arrange all major themes and sections coherently. This could be following a chronological order or by importance – consider what makes the most sense based on the objective of your content.
A logical flow provides readers with smooth guidance through the text, allowing them to absorb the information effectively without abrupt interruptions or confusing transitions.
Visual Organization
As well as establishing a natural progression within your text itself, visually organize these structures within your blog post outline using numbering, bullet points, or indentation—this aids comprehension when reviewing or editing during later stages.
Employing visual organization can facilitate navigation through regions covered in your work easily while indicating relationships between parts, such as introduction-summary connections, accordingly.
Additionally, when working collaboratively with others (or even yourself down the line), a clear visual organization within your blog outline template will save time and improve communication.
Maintain Flexibility
Finally, maintain flexibility. While arranging the major themes and sections confidently lays a solid foundation for your content, it's important to remember that this may need change or revision as you proceed with writing.
Be open to adjusting the order of sections, adding details, or even removing some parts entirely if they aren't consistent with the overall flow. Maintaining adaptability in your blog post outline ensures that your final product remains cohesive and captivates readers from start to finish.
Step 7 – Brain Dump: Write Down Every Question You Need to Answer
After arranging the key themes and sections of your blog outline template, it's time to explore the questions that need to be answered within each section. By conducting a thorough "brain dump," you can generate a comprehensive list of inquiries that will address the concerns of your readers and help make your content more engaging.
Identify Your Reader's Questions
The first step to creating this list is identifying what your target audience might be interested in or confused about. Consider questions from various perspectives, ensuring you cover both beginners and experienced readers. Some practical approaches to uncovering these questions include:
Reflecting on common concerns or misconceptions
Analyzing competing content for gaps in explanations
Posing hypothetical questions based on the topic at hand
Engaging with user-generated content (comments, forums) related to the subject matter
Remember that using relevant keywords—such as blog post outline templates, outline templates, and article outline templates—will increase the chances of reaching your target audience during their online search efforts.
Categorize Questions into Sections
Once you have compiled an extensive list of questions, sorting them into appropriate sections will provide a smooth flow for addressing topics throughout your blog post. Here are some helpful ways to organize these inquiries:
Group similar queries together
Arrange question groups by relevance or importance
Ensure there is a logical progression between sections while answering these questions
Using an organized approach during this brain dump will create a coherent structure and add value to your content as it effectively addresses reader concerns.
Get Ready for Extensive Research
Having procured an exhaustive list of questions for each section, prepare for extensive research. Remember that reliable sources and data-driven insights form the basis for high-quality information dissemination; therefore, invest enough time in finding accurate answers to support your blog outline template.
By following these recommendations for Step 7, you'll have a solid foundation to answer your reader's questions while ensuring that your content is engaging and informative. This brain dump technique will streamline the writing process and enhance your piece's usefulness for your audience.
Step 8 – Ask More Questions (Research, Research, Research)
One of the most excellent tools any content writer can utilize is thorough research. Before finalizing your blog outline template, take some time to delve into your chosen topic from various angles. By asking more questions and expanding on the initial points within your outline, you'll create a comprehensive, in-depth blog that offers great value to your readers.
People Also Ask
Google's People Also Ask box is an excellent resource for finding relevant questions when researching a topic. These are actual queries requested by users who are curious or need guidance related to your subject. Incorporate these commonly asked questions into your blog post outline template as subheadings and answer them concisely to make your article informative and engaging.
Quora Questions
Quora is another invaluable platform where people ask questions about various topics and receive answers from experts or fellow users. Utilize Quora for inspiration and conduct searches related to your focus keywords or topic. Incorporating insights from credible professionals will undoubtedly bolster the authority of your content.
Here's how:
Search for keyword-related questions.
Read answers provided by knowledgeable contributors.
Summarize key takeaways and cite the source(s) in your blog outline template.
Enter discussions, if necessary, to gain a deeper understanding.
Keep track of all valuable information found on Quora and include them naturally within appropriate sections of your blog post outline.
Reddit Questions
Reddit thrives as a community for authentic conversations between individuals with shared interests. The platform hosts countless " subreddits " forums for particular subjects or industries.
To leverage Reddit in enhancing your blog outline template:
Identify relevant subreddits related to your niche.
Browse through discussion threads containing targeted keywords.
Engage with active users seeking advice about the issue addressed in your article.
Maintain high-quality standards, tailoring content to the guidelines of each specific subreddit.
Incorporate findings from Reddit discussion threads into your blog post outline by expanding on existing points or introducing new subheadings. By thoroughly researching questions asked on platforms like People Also Ask, Quora, and Reddit, you'll refine your blog outline template into a detailed blueprint for an informative and powerful piece that resonates with readers.
Step 9 – Insert Relevant Studies, Data, and Additional Sources
In this step, you will fine-tune your blog outline by incorporating relevant studies, data, and additional sources to support your arguments and provide evidence for your claims. Including these elements adds credibility to your content and demonstrates the thorough research conducted before writing the blog post. Here are some tips for finding and integrating reliable resources into your blog outline:
Use reputable sources: When quoting studies or referring to data, ensure that primary (e.g., academic or government research) or well-respected secondary sources (like news articles from established media outlets) are utilized. This helps establish trust with your audience while minimizing potential inaccuracies.
Factor in different perspectives: To present a balanced view on a specific topic, consider sharing expert opinions or giving both sides of the argument. In doing so, you offer readers multiple viewpoints to assess and demonstrate the depth of your knowledge about the subject matter.
Be mindful of timeliness: Outdated information can damage the relevance of your blog post. Therefore, it is vital to include recent studies and new data whenever possible. That said, sometimes referencing historical events – when appropriately contextualized – enriches a topic's understanding.
Properly attribute work: Cite all sources used clearly throughout the text and include links to original publications where applicable. Not only does appropriately attributing materials protect intellectual property rights, but it enhances transparency with readers regarding where assertions have been derived from.
Consider using visual aids: Data, studies, and other sources may be represented through charts, graphs, or infographics to enhance the clarity of your blog post. Visual aids help readers grasp complex ideas without requiring them to sift through large amounts of information.
When incorporating relevant studies, data, and additional sources into your blog post outline, prioritize credibility and transparency by referring to trustworthy resources that offer diverse perspectives on the topic at hand. Moreover, don't forget about timeliness – strive to include up-to-date findings for a more engaging read. Lastly, consider adding visual elements for improved readability where appropriate.
Step 10 – Revise, Trim, and Clean Up Your Blog Post Outline
It's much longer than necessary after you've incorporated all the elements mentioned in the previous steps to create a comprehensive blog post outline template. The final step involves revising, trimming, and cleaning up your final post outline to make it more concise and effective. Here are some tips on how to accomplish this:
Review the flow of ideas: Read your blog post outline from start to finish, ensuring the information flows logically and smoothly from one section to another. Rearrange paragraphs or headings if necessary. This will allow readers to follow your train of thought with ease.
Eliminate repetitive or irrelevant information: Cross out any redundant points or content that doesn't add value to your topic as you read through your article outline template. Focus on including only vital points that support your main idea throughout the post.
Divide lengthy paragraphs into shorter ones: Readers generally struggle with massive blocks of text. Therefore, breaking down long paragraphs into smaller pieces will increase readability for your target audience.
Revisit keywords: Review the keywords you used in each section (3-5 per section). Ensure they fit naturally within the context without appearing forced or excessively repeated.
Fine-tune headings: Refine your headings by using similar structures across sections (e.g., all beginning with action verbs) and ensuring they're concise but informative at the same time.
Verify external references: Double-check studies, data, quotes, and additional sources used throughout your blog post outline template, ensuring they accurately support your arguments and come from reliable sources.
Proofread for grammar and spelling errors: Lastly, thoroughly comb through each part of your content outline example, seeking mistakes in grammar and spelling before crafting it into a well-written blog post.
Taking these measures helps convert an already solid outline template into a refined, polished finished product. This will make the writing process significantly smoother and more enjoyable for you as an author while providing valuable information to your readers clearly and logically.
Create Blog Outline Manually or With Tools?
There often arises a question in the minds of content writers and bloggers: is it better to create a blog outline manually or use tools? Both methods have their advantages and drawbacks. In this section, I will discuss both approaches so that you can make an informed decision regarding which process you should opt for when creating your blog outline template.
Creating a Blog Outline Manually
Pros:
Customization: When working manually, you have complete control over every aspect of the outline creation process—allowing you to tailor your template precisely to your needs and preferences.
Critical thinking: Crafting an outline by hand encourages critical thinking and helps solidify your understanding of the subject matter.
Cons:
Time-consuming: Manually constructing an outline takes longer than using digital tools designed specifically for this purpose.
Limited research and analysis capabilities: without tools, you don't have access to data that you wouldn't have like analyzing top-performing SERPs, their keywords, and content outlines.
Organization challenges: It may be difficult to keep track of all ideas and information when creating a manual outline, resulting in a less effective organization.
Creating a Comprehensive Outline Using Tools
Pros:
Speed: Online tools speed up the outlining process, enabling you to quickly create organized and structured templates.
Advanced features: Several blog outline tools offer unique features such as keyword analysis, topic suggestions, and SEO optimization benefits.
Improved quality and consistency: Using a tool creates uniformity across multiple blog posts ensuring consistent formatting standards are maintained.
Cons:
Limited customization: Templates generated by online tools might not always match your specific requirements due to restrictions in customizability options.
The choice between creating blog outlines manually or using tools depends on personal preferences and specific project requirements. Manual outlining may suit your needs better if you are more comfortable crafting custom templates and value the critical thinking process. Conversely, if your primary focus is speed and efficiency, utilizing blog outline tools can save valuable time while offering a good structure for your content.
Use Cyborg Method for Creating Outline Template
It doesn't have to be either choice. The Cyborg Method is a smart way to make an outline template, using both technology and human creativity. By using AI tools and human ideas, users can quickly create flexible outlines. This makes work easier, more organized, and able to change for different projects. The Cyborg Method helps people work together and make their ideas come to life, leading to successful projects.
Blog Post Outline Example & Template
In this section, I will provide a practical example of a blog outline template that can be easily adapted for various topics and industries. This template is kept simple to ensure an efficient outline process while providing enough structure for quality content creation.
1. Introduction
Introduce the topic
Mention its importance and relevance
Preview what readers will learn in the article
2. Topic Background or Problem Statement
Provide relevant background information
Explain how the issue affects your target audience or industry
Share noteworthy statistics, studies, or data supporting your topic's significance
3. Key Concepts or Components
Break down the main elements of your topic into subheadings
Use bullet points or numbered lists to present key pieces of information concisely and clearly
4. Step-by-Step Guide (optional)
If applicable, provide a step-by-step guide on how to tackle or solve your topic's issue
Present each step as a separate subheading and clearly explain it with actionable advice
5. Common Challenges or Pitfalls
Address potential obstacles associated with your topic
Offer solutions to overcome these challenges and improve results
6. Tips for Success
Share expert insights or personal experiences that readers might find helpful
Compile a collection of best practices intended to enhance understanding and implementation
7. Tools and Resources (optional)
Suggest any useful tools, resources, additional readings, or references that support your message
Be sure they are reliable sources that strengthen the credibility
8. Conclusion
Recap major takeaways throughout the article
Call-to-action: inspire readers to apply the information or share their experiences/results
To use this blog outline template as a foundation for your writing, copy and paste it into your preferred word processing program. Then, begin to tailor each section with the specific insights of your chosen topic, focusing primarily on maintaining clarity and engaging readers throughout.
Writing Great Blog Post Outline with SEOwind
When crafting a blog post outline, it's paramount to use reliable tools that can help save time and ensure efficiency. One such tool is SEOwind, an all-in-one platform to optimize your blog content.
With the following key features, SEOwind proves to be the best blog outline template:
SEO Keyword Analysis: This intelligent keyword analysis feature allows you to identify relevant keywords top performing content ranks for.
Automatic Heading Structure: Once you've identified primary and secondary keyword targets from the in-depth research process, the tool automatically creates a comprehensive heading structure. This helps you develop a coherent flow for your blog posts.
Exhaustive Content Research: SEOwind goes beyond finding popular topics in your niche. It thoroughly analyzes competing pages to offer insightful recommendations on important aspects like word count or heading structure.
AI assistance – SEOwind can automatically generate a comprehensive content outline along with a title and meta description. What's more, based on that it can generate a long-form article written with AI within 15 minutes.
Tips for Writing an Effective Blog Post Outline
Find the Big Idea
To develop a high-quality blog post outline, identify the overarching theme or 'big idea' you want to convey in your content. Understanding this central concept allows you to generate relevant subtopics that help support and expand upon your main idea.
Understand What the End Result Must Be
Visualize what you want your readers to gain from reading your article. This could include imparting knowledge, persuading them to adopt a certain viewpoint, or helping them solve specific issues. Knowing the intended outcome of your article will ensure that all aspects of your blog post outline effectively contribute to achieving that goal.
List What You Have to Mention
With the big idea and result in mind, start jotting down essential points that must be covered in your blog post. These points should be directly related to supporting both the primary topic and envisioned result. Including these crucial points will ensure that your content remains comprehensive and aligned with its intent.
Figure Out What You Don't Know
As you create your initial list of important concepts, identify gaps in your understanding regarding certain aspects of the topic. Note these areas, as they may require further research before incorporating them into your article outline template.
Figure Out What You Do Know
Think about what expertise or unique insights you possess on the subject matter. Incorporate these personal perspectives into appropriate sections within the outline template – but remember not to be overly self-promotional.
Organize All of the Lists into Related Groups
Now it's time to organize all previously collected information into cohesive categories based on similarities and relevance. Grouping related ideas allows for greater coherence, better flow, and easier navigation for readers and writers alike.
Create Summarizing Headings
Once ideas are organized into groups, take a moment to create summarizing headings for each section. These headings accurately capture the main points you want to cover and help paint a clear picture of what readers can expect from your content.
Reorder and Cut the Heading Groups
Evaluate whether any improvements can be made to the order in which heading groups are organized, ensuring a logical progression throughout your article. Also, remove irrelevant or tangential sections that may detract from your primary goal. Remember that conciseness is key.
Refine Each Heading Group
Finally, fine-tune each grouped section within your blog outline template by considering the following:
Eliminate redundancy.
Ensure that all subheadings work together cohesively within their respective groups.
Incorporate keywords without being overly repetitive.
Verify that all content elements align with your overarching idea and desired result.
By following these tips for creating a compelling blog post outline, you'll save time and increase the overall quality of your content – making it more likely to engage readers and achieve its intended purpose.
Blog Post Formats to be Aware Of
To create a truly engaging and informative blog post, it's essential to choose the correct format that resonates with your target audience and complements the topic you're discussing. The choice of format will significantly impact how you develop your blog outline template. Let's examine three popular blog post formats that can help you effectively communicate your ideas: 'What Is' Format, 'How To' Format, and Listicle Format.
'What Is' Format
The 'What Is' format, an explanatory article, is ideal for introducing complex concepts or breaking down jargon to make them more accessible to beginners. These posts aim to clarify specific topics by explaining their importance, implications, and context within a broader framework.
The main points of this format include:
A clear definition of the term or concept
Background information on its origins, history, or development
Examples illustrating real-world applications
Addressing any misconceptions or frequently asked questions
When creating an outline using the 'What Is' format, consider inclusions like:
Introduction (explaining why the topic matters)
Definition (stating explicitly what it is)
Context (describing relevant history or background)
Examples (specific cases where this applies)
Common Misconceptions
FAQ section
Conclusion (summarize key takeaways)
'How To Format
The 'How To' content format provides practical guidance by detailing step-by-step instructions for accomplishing specific tasks or solving particular problems. This type of content offers value by delivering actionable insights readers can apply immediately.
Important points of this format include:
Identifying a specific problem or challenge faced by readers
Breaking down the solution into sequential steps
Providing examples where applicable for better understanding
Resources needed to complete each step
For a blog outline template using the 'How To' format, consider the following structure:
Introduction (explain why the task is essential)
Goal statement or objective
Necessary tools or resources
Step-by-step instructions (with corresponding subheadings)
Examples of case studies for clarification
Tips and best practices to ensure success
Conclusion (main recap points)
Listicle Format
The listicle format has become widely popular in recent years due to its easily digestible nature. It appeals to readers who appreciate concise information presented visually. This format involves giving your content as a list, usually with an accompanying bulleted list of points or numbers.
Key components of this format include:
An engaging title, often featuring a specific number (e.g., "10 Tips for…")
Curated items on the list that are directly relevant to the topic
Concise explanations of each item's importance or relevance
Visuals like images or graphics for added clarity, if applicable
When developing an outline based on the listicle format, consider including the following:
Introduction (briefly set expectations for what the reader will learn)
Main list items with associated subheadings
Item 1: Explanation
Item 2: Explanation
…
Calls-to-action or next steps leveraging this knowledge
Conclusion (reiterate key takeaways)