SEO Content Brief Generator
Put your Content Team on steroids 
Great content starts with thorough research and a content brief. Our AI-driven content brief generator outlines the perfect content quickly, effortlessly, and at scale using SEO data. In minutes, not hours.
Powerful Content Brief Generator
What do you get out of SEOwind?
Research great content, quickly
Get all the data on top-ranking SERPs, keywords, and questions in one place. No more dozens of open tabs.
SEO data for top-ranking pages,
Their titles and meta descriptions, outlines, length, and keywords,
Keywords clustered with AI,
Relevant questions from Google, Quora, and Reddit.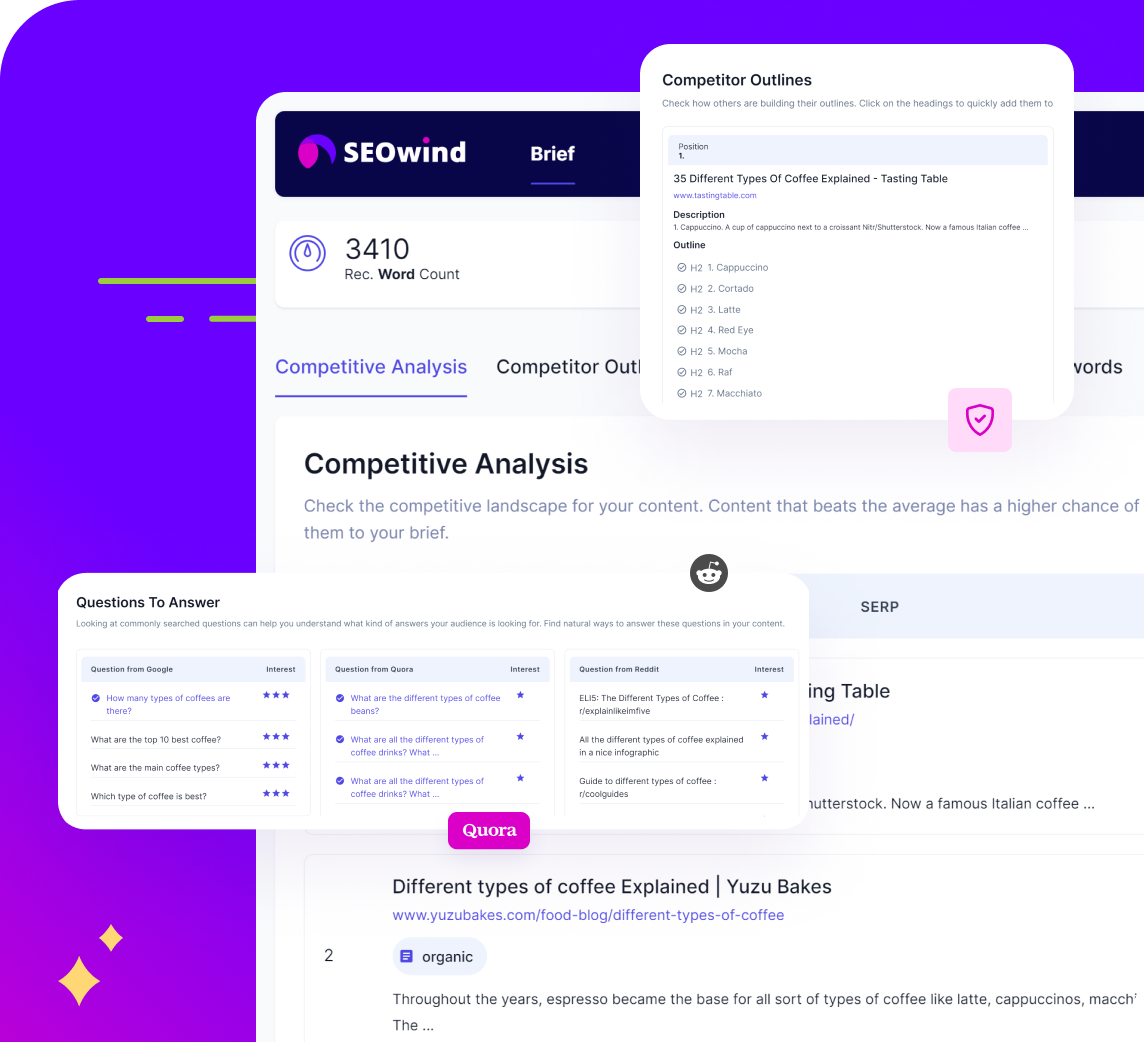 Create Content Outline with a couple of clicks
Build your comprehensive outline in minutes. Within 10 minutes you'll have a content brief that is objectively better than your competitors.
Quickly scan through top SERPs,
Click any headings and questions you find relevant to your outline,
Make your content more comprehensive than all the other pieces combined.
Discover highly-relevant keywords
Write content that ranks not for one keyword, but for dozens of keywords.
Get keyword research on top SERPs

Identify keywords top SERPs are ranking for in the top 30, with search volume above 10, 

Choose the keywords that you would like to cover.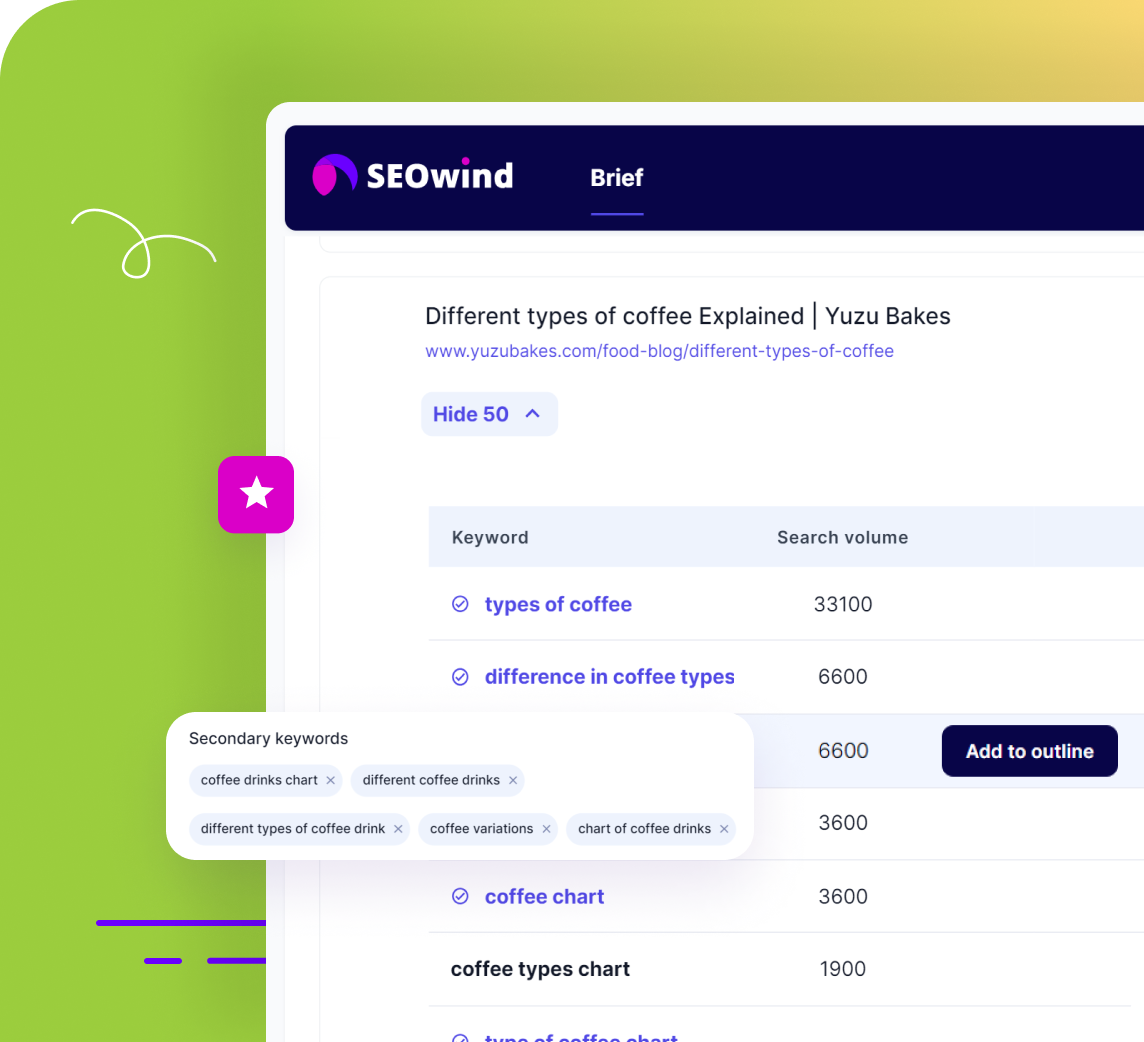 Take advantage of powerful AI
We use AI to generate automated SEO content briefs – relevant, and comprehensive, based on tons of SEO data which keeps AI on track for nailing the search intent.
Without providing AI with data we would get creative content that wouldn't rank.

You can either rely fully on our AI outline, enrich it with your own ideas, or do it on your own.
Use AI to quickly write engaging and eye-catching titles and descriptions.
Answer the right questions
Deliver value to your audience by answering their questions, and addressing their pains and needs. 
To ensure you're answering questions your audience is interested in, we pull in related:
Get your content structure right
Create content that stands a fight with top SERPs. Base it on data, not hunch. 
Use our recommendations on: 
word count,

number of headings, and

number of images. 
Easily share with the content writer
Once your brief or content outline is complete, you can share the link directly with your content writer.
You can also copy it to your clipboard and paste it into Google Docs or Word – just the way you like.
Clients love us – G2 Spring 2023
SEOwind was named a High Performer – SEO tools category
SEOwind is a great tool that simplifies the task of creating content briefs and allows us to get the maximum performance out of our content. So much so, we said goodbye to SEMrush – no longer needed!
Nina Hoedlmayr
Head of Marketing, Yodel.io
SEO Content Brief Generator powered by AI
Have a look inside SEOwind features
Top SERPs Analysis
Get an in-depth analysis of top pages – their meta tags, word count, outlines, and keywords.
AI-generated Outline
Create an automated content outline based on tons of SEO data to nail the search intent.
AI Keyword Clustering
Use keywords grouped by similarity to ensure your content is comprehensive and relevant.
Top SERPs' keywords
Identify keywords top SERPs rank for in the top 30, with search volume above 10.
Keywords context
Get a better understanding of keywords by looking into where and how they were used.
Competitor Outlines
Quickly scan through competitor headings to build your own content brief.
Questions from Google
Use People Also Ask questions to better address your audience's needs and pains.
Questions from Quora
Take advantage of Quora questions and deliver additional value to your audience.
Questions from Reddit
Use Reddit questions and discussions to get deeper insights into what your audience needs.
AI-generated title
Use AI to get creative, and eye-catchy title for your content.
AI-generated meta description
Create a meta description that triggers conversions.
Recommendations
Get clear recommendations on content length, number of headings, and images to rank.
Languages and locations we cover
Prepare content briefs in over 180 locations around the globe in the following languages:
English
Czech
Dutch
French
German
Indonesian
Italian
Polish
Portuguese
Slovak
Spanish
Swedish
You've got questions. We've got answers.
Powerful SEO Content Brief Generator
Based on data
Don't waste time digging through tons of SEO data. Get all you need in one click.
Powerful AI
AI built within the content briefing process makes it even more efficient.
Increase organic traffic
Create content based on data and enjoy driving more organic traffic.
Start writing content that hits
traffic goals, every time.