AI Writing Tool
that drives traffic
Make AI Writer a part of your team.
Embrace CyborgMethod™ to get results.
Case study #100Posts30DaysChallenge
Our AI Articles bring traffic and we have data to prove it. Others don't.
We use the tool that we created. We tested it on ourselves. We're proud on the results we got.
Total Impression Increase
Create 5X More High-Quality Content.
Prompting AI is no different than briefing humans. To get quality output you need to provide detailed input to AI. That's why content research and comprehensive outline is crucial.
Step 1: In-depth Research
Research great content, quickly
Get all the data on top-ranking SERPs, keywords, and questions in one place. No more dozens of open tabs.
SEO data for top-ranking pages,
Their titles and meta descriptions, outlines, length, and keywords,
Keywords clustered with AI,
Relevant questions from Google, Quora, and Reddit,
Recommendations on word count, number of headings and images.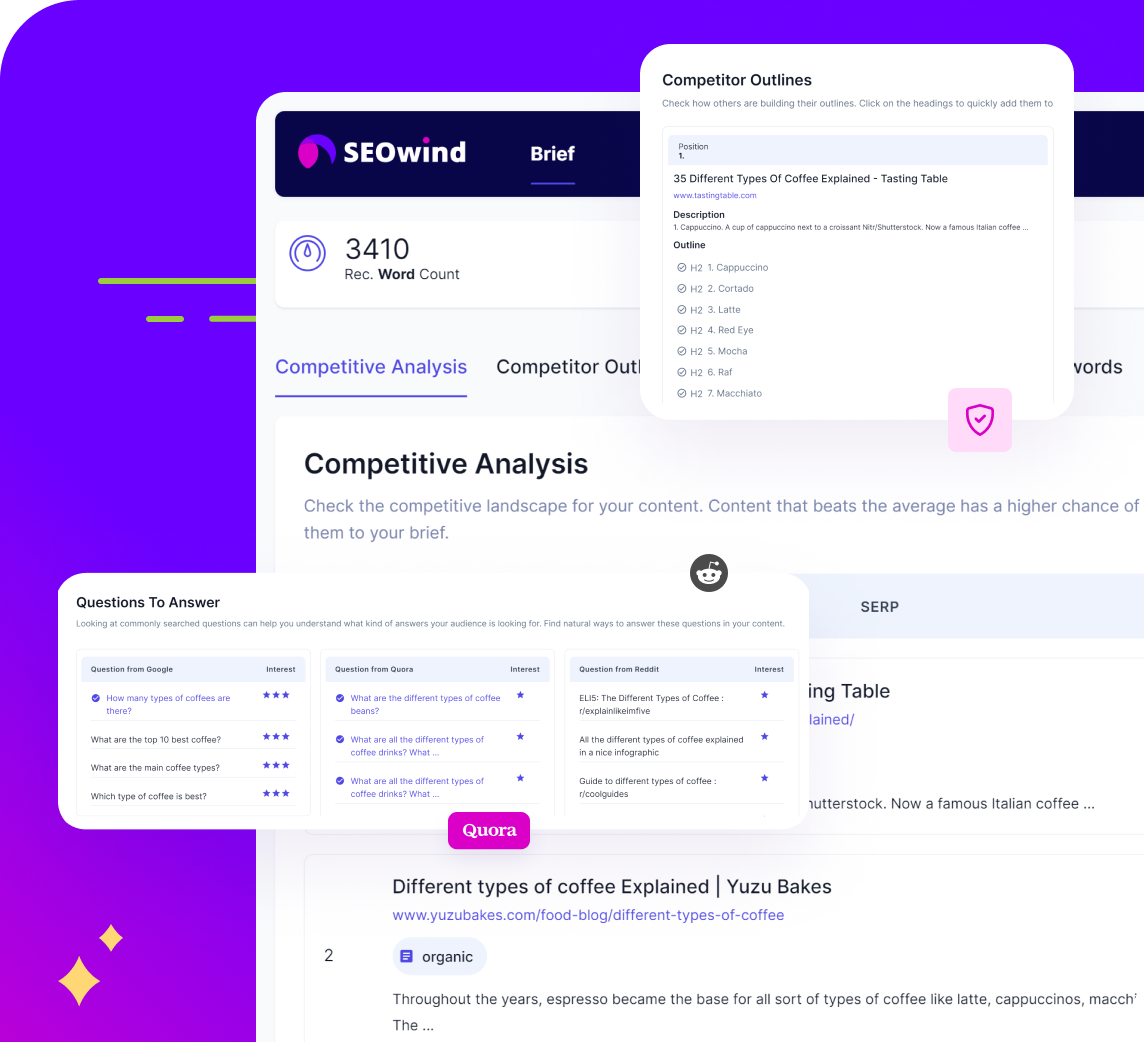 Step 2: Comprehensive Outline
Create Content Outline with a couple of clicks
A comprehensive and well-researched brief is fundamental for high-quality content. Within 1-click you'll have a content outline that is objectively better than your competitors.
Our SEO content briefs are relevant, and comprehensive, based on tons of SEO data which keeps AI on track for nailing the search intent.
You can either rely fully on our AI outline, enrich it with your own ideas, or do it based on competitor research.
Quickly scan through top SERPs,
Click any headings and questions you find relevant to your outline,
Make your content more comprehensive than all the other pieces combined.
Step 3: Long-form AI Writing
Write AI content that drives traffic
Unlike any other writing tool, SEOwind combines in-depth content research, comprehensive outlines, SEO, and AI to write content that ranks.
SEOwind AI articles
get indexed,
drive traffic,
bring conversions.
Welcome to smarter, faster, and more strategic content creation.
Start writing content that hits traffic goals, every time.
Why content written with SEOwind drives
traffic and conversions?
AI content produced by other tools is often shallow, empty and repetitive. SEOwind content isn't. It's comprehensive, high-quality & long form content.
High quality outlines
SEOwind articles are based on comprehensive and well researched outlines. They are fundamental for high quality content.
Comprehensive prompt
When writing our articles, the input that we give to GPT is around 7k words for every 3k words of the article we create.
Based on top SERPs
We base our AI articles on thorough research. Understanding what ranks and why is the keyt to nail the search intent.
SEO best practices
Our articles include relevant keywords based on top-ranking content. SEO best practices are incorporated.
Check out our sample AI Articles written with SEOwind powered by CyborgMethod™
Here are a few sample blog posts published on SEOwind domain
Effective link-building strategies are essential for businesses to stay ahead in organic search engine rankings. Discover the secrets of 2023's top-performing link-building strategies!
Distinguishing yourself from the overwhelming amount of information available on search engines is crucial for success. Enter rich snippets – an advanced approach to improving your website's visibility and engagement on SERPs.
White papers have become a staple for businesses seeking expertise and authority. Learn everything you need to know about writing white papers that command attention.
We build customer trust
Don't take our word for granted. Check why our customers love us.
So far SEOwind has been great and a little mind-blowing to use. The blogs I've generated with AI give me an excellent place to start and free up much of my time. I can edit more, create better graphics for my content, and ask my SMEs for reviews, quotes, and additional insights. The quality of the blogs is also pretty good for an AI tool, better than a couple of other tools I've tested, and reads well. These blogs still need our human expertise and need to be edited and added to.

Ruth Favela

AI Marketing Specialist, Tomorrow.io
I've been testing and using AI tools since 2021, and nothing I have seen comes close to what I've seen SEOwind produce regarding 1st draft quality for SEO-related content. What's scary is that it will only get better with time.

Andrew Holland

Director of SEO, JBH
I've loved working with Tom and SEOwind to scale some of my SEO efforts. We're a small marketing team with limited writing resources, and there's nothing worse than staring at a blank page. Tom delivered an optimized draft that only needed light brand voice and storytelling updates. I cut my edit-and-publish time down significantly to launch my first AI article.

Cari Murray

Director of Marketing, Marvin
SEOwind is a great tool that simplifies the task of creating content briefs and allows us to get the maximum performance out of our content. So much so, we said goodbye to SEMrush – no longer needed!

Nina Hoedlmayr

Head of Marketing, Yodel.io
In the last 12 months, I've purchased well over 200 SEO articles from various freelancers and agencies, and what SEOwind was able to produce with a few strategic inputs was easily in the top 5%. You have to see what it's capable of for yourself.

David Ramos

SEO Product Manager / Senior SEO Analyst, AAA
Enjoy the SEO results
Scale up your content creation process and drive more organic traffic to your website. 
Save time and money
Don't waste time on digging through tons of SEO data. Get the SEO essentials in minutes, not hours.
Increase organic traffic
Make organic traffic a sustainable source of leads for your company every month.
Publish more
Streamline your content creation process and hit your traffic goals every time.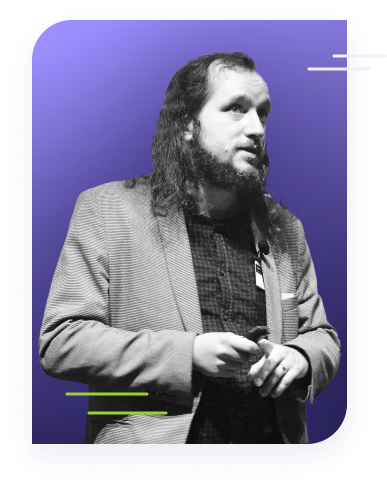 Why choose SEOwind?
The tool created by SEO data-driven experts to deliver results

My clients rank higher with briefs that are data-driven. They save time and effort. So stop struggling with content and keyword research, and let SEOwind do the hard work for you.
Lukasz Zelezny, SEO Expert and Consultant
7-Day Money Back Guarantee
With SEOwind, you have 7 days to make sure it's the right fit – and if not, we'll give you a full refund. 
All we ask in return is how we can make SEOwind better. Ready? Let's do this!
Drive traffic
Start writing content that hits traffic goals, every time.